TERMS OF REFERENCE, PROVIDING AND MONITORING MASS MEDIA DISSEMINATION OF COMPOUND SANITATION MESSAGES IN SSD TARGET MUNICIPALITIES, MARCH 26, 2019
Introduction
WSUP is a tri-sector partnership between the private sector, civil society and academia, focused on addressing the increasing global problem of inadequate access to water and sanitation for the urban poor. WSUP believes that access to safe and affordable water, improved sanitation and improved hygiene practices underpin poverty reduction through impacts on health, education and livelihoods. This is supported by the belief that sustainable and viable improvements can only be made by strengthening the technical capacity and financial viability of local service providers.
WSUP has a strategic portfolio of six countries in Africa and South Asia where it works in close partnership with local service providers and national government. WSUP's approach in each city begins with the identification of approaches to improve the direct delivery of service improvements at a representative scale, in order to A) enable the practical application of capacity development of the local service provider, and B) remove a key barrier to a better functioning market for pro-poor service delivery by using grant funding to overcome risk aversion to failure. Through the delivery of financially viable and effective service provision at a representative scale in each city, and by strengthening the capacity of local partners to provide pro-poor services under viable business models, WSUP aims to trigger investments for the scale-up of service delivery at the city and ultimately the national level. WSUP is committed to sharing the learning from its work with the wider sector to inspire replication and ensure maximum global impact. For a summary version of WSUP's Theory of Change 2012-2015, see Figure 1.
Figure 1: simplified WSUP theory of change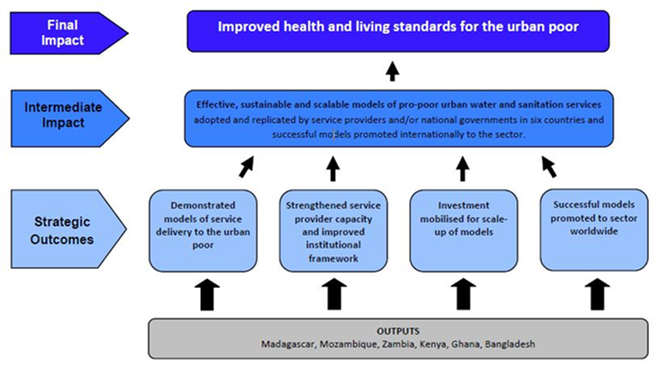 WSUP has been established as a not-for-profit company for over 10 years and in that time has grown its programme of work from zero during that period. Over that period, the company has also progressed from having no position of influence within the international WASH development community to being well recognised widely by organisations such as the World Bank, UNICEF, Stone Family Foundation and others as providing a unique and successful approach to help overcome the challenges faced in providing sustainable WASH services to low income communities in urban areas.
Building on the back of the above recognition, WSUP has established WSUP Advisory CIC, a wholly owned subsidiary incorporated as a Community Interest Company (CIC), to operate as a consultancy to extend WSUPs reach into countries outside of our 6 core countries. Profits generated will be returned into the not-for-profit entity as a source of unrestricted funding. WSUP Advisory has already secured very significant contracts in India, Ethiopia, Pakistan and elsewhere funded by USAID, UNICEF and others.
Programme overview
The current WSUP business plan runs from December 2012 – March 2016. The business plan programme targets the adoption and replication of effective urban water, sanitation and hygiene (WASH) models by WASH service providers, national governments and international financing institutions across the six countries where WSUP has an established presence. It is further characterised by a comprehensive programme of research, publications and communications aimed at informing and influencing the international WASH sector.
Box 1: current business plan programme key characteristics
Programme name: Water & Sanitation for the Urban Poor (WSUP)
Funders: DFID, USAID, OFID, EC, BMGF, TCCAF, Skoll, Stone Family Foundation, JSDF, Dutch Government, French Government and others
Core Countries: Bangladesh, Ghana, Kenya, Madagascar, Mozambique, Zambia
Approximate annual spend: £11 million
Start date: 7th December 2012
End date: 31st March 2016
Total number of people benefiting: 3.9 million direct; 12.5 million indirect
A new 2016-2020 WSUP business plan has been prepared and has already attracted significant support from funders. It is envisaged that annual spend over the 4 year period will average GBP 15 million.
Service support required
Objectives of the project
The overall objective is to oversee and monitor district-wide dissemination of compound sanitation messages through local information dissemination media in all 13 target municipalities of the SSD project.
Specifically, the consultant shall be required to work with and ensure that all local radio, community information centers and information vans/public address media in each of the target districts disseminate compound sanitation messages as detailed in the table below.
The assignment shall be carried out in 3 main tasks;
Work with local radio and community info centers/public address systems to disseminate compound sanitation related messages from April to September 2019
As part of community outreach on bylaw activities of the project, the consultant shall work through information vans to propagate local bylaws related messages; their enforcement and prosecution. WSUP shall facilitate this activity by working the municipal environmental offices to develop the bylaw and enforcement messages. The consultant will be required to organize, on monthly basis, information vans and monitor dissemination progress against targets by September as planned.
The consultant will be required to carry out overall monitoring of message dissemination to ensure the local media are doing announcements and dissemination meeting targets.
NB: WSUP will provide audio materials to be used for dissemination at community info centers/public address systems.
WSUP will work with the municipalities to develop bylaw education content to be played through information vans
TASKS AND ACTIVITIES
| | | | | |
| --- | --- | --- | --- | --- |
| No | Task | Qty | Frequency | Duration |
| 1 | Community info center announcement | Average of 130 community info centers all 13 municipalities | 8 times a month (twice a day | May to September |
| 2 | Information van announcements – community outreach on bylaws | At least 1 info van hired per district for the announcements | 4 times a month in each target district (once a day) | May to September |
Programme
The services of the consultant are as outlined in the table above, and time would only be counted from the start of each task and is expected to be completed by the stipulated periods in the various phases of the assignment.
| | |
| --- | --- |
| Date | Milestone/deliverable |
| Sep-19 | Complete every monthly target dissemination |
| Sep-19 | Maximum 3-page completion report submitted by end of September |
The Consultant should expect to be asked to respond to one round of comments and questions on draft documents before acceptance by WSUP of final versions.
Contract terms
A standard WSUP service agreement format will be used, subject to the supplier's agreement with the terms.
Payments
Terms of Payment
Payment shall be made in accordance to the table below.
Table 2 – Terms of Payment
| | | |
| --- | --- | --- |
| Instalment | Phase | Value (% of total contract sum) |
| 1 | Upon signing of agreement | 30% |
| 2 | Upon submission of valid receipts as proof of payment to other suppliers | 40% |
| 3 | Upon submission of valid receipts as proof of payment to other suppliers | 30% |
Payment will be by bank transfer upon receipt of invoice.