Company Profile
AEL Mining Services is a leading developer, producer and supplier of commercial explosives, initiating systems and blasting services for mining, quarrying and construction markets in Africa and beyond. AEL Mining Services is a Division of AECI Ghana Limited, and a subsidiary of AECI Limited, listed on the Johannesburg Stock Exchange.
Job Description
Designation: MINING OPTIMIZATION / UBS SPECIALIST
Date of vacancy: Immediate. Local or expatriate contract
Department: EMEA – West Africa (Based in Bogoso, Ghana)
Geographic Area: Ghana, West Africa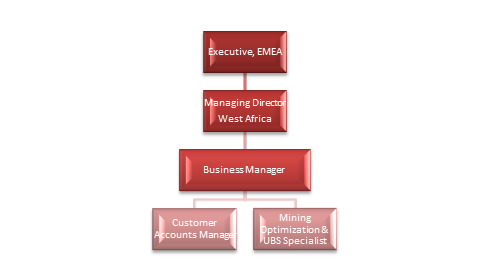 Purpose of the job
To develop, deploy and exploit AEL's UBS blasting expertise through value adding projects to the best advantage of the company and its stakeholders.
Required outputs: Functional
Conduct AEL value adding projects to customers
Develop blast designs, blast enhancement to new innovations and product conversions with emphasis on UBS, CBS and Digishot as applied to underground environments.
Monitor product performance and accuracy of timing.
Interpret blast design data for safe and efficient blasting.
Communicate blast design data to supervisor, customer or subcontractor
Identify potential hazards and risks associated with a poor blast design
Project involvement with all on-going projects with the department
General
Excellent Technical Report writing, documenting findings and preparation of presentation
Coordinate business development
Technical coaching and training
Continuous professional development
People management and development
Required Skills or Experience
Diploma in a technical field (mining, geological, civil, surveying, etc. ) plus 10 years' experience
OR
University degree in a technical field (mining, geological, civil, surveying, etc. ) plus 5 years' experience
Explosives Engineers Certificate
Job specification
Knowledge of both surface and underground mining under different conditions
At least 5 years' each underground and surface mining experience
The incumbent will draw on extensive and broad industry experience (Surface and Underground) to apply diversified solutions and techniques to complex situations and as needed.
Rely on first principles, fundamental engineering theory and broad industry knowledge to ensure practical solutions
Seasoned knowledge of mine methods, mine design, production scheduling and equipment selection
Experience in both bulk and selective mining methods
Personal attributes
Competencies (skills, knowledge and characteristics)
Interpersonal skills including high degree of cultural sensitivity
Group presentation skills
Excellent computer skills
Analytical
Initiative
Quality orientation
Assertive
Negotiator
Work independently and on own initiative
How To Apply
Sorry, job has expired.
Note

Please note, employers receive numerous applications per posting and will only shortlist the most qualified candidates. Also Jobsinghana.com is not involved in any decision made by an employer/recruiter and therefore does not guarantee that applications sent will result in a candidate being shortlisted/selected for that position.